---
Bio: Dr Richard K. Ssuna
Respected #wildlife and #pet #vet @RichardSsuna talks about @africacreatures saving #animals in #Uganda #Lesotho #Malawi and also #palmoil #landgrabbing #animalrights and the #Boycott4Wildlife #Africa

Tweet
Respected #wildlife and #pet #vet @RichardSsuna talks about @africacreatures saving #animals in #Uganda #Lesotho #Malawi and also #palmoil #landgrabbing #animalrights and the #Boycott4Wildlife #Africa

Tweet
'Globally, #deforestation of equatorial forests for #palmoil has affected carbon sinks and has resulted in more global warming. I support the #Boycottpalmoil #Boycott4Wildlife' Dr Richard Ssuna #wildlife and #pet #vet #Uganda #Africa

Tweet
'Foreign #palmoil companies (RSPO members) have claimed the Kalangala Islands, Uganda for #palmoil. The locals have lost their food sources. I support the #Boycottpalmoil #Boycott4Wildlife' #Wildlife and #Pet Vet @RichardSsuna

Tweet
"In my view product certifications like @RSPOtweets when their operations adversely affect people, they are designed to cover-up an already messed-up industry." #Wildlife #vet @RichardSsuna #Boycottpalmoil #Boycott4Wildlife

Tweet
The public has been hoodwinked into believing that @RSPOtweets #palmoil #certification equates to a sustainable product and as result, companies fetch even more cash for it" #Wildlife #vet @RichardSsuna #Boycottpalmoil #Boycott4Wildlife

Tweet
'Please support All Creatures Animal Welfare Trust so we can help domestic and wild animals' #wildlife and #pet #vet @RichardSsuna of @africacreatures #Boycott4Wildlife

Tweet
---
Chimps are very curious and they pay attention to detail
This is how it all started many years ago! Here I am examining one of the baby chimps at a sanctuary. Did you know that chimps appreciate veterinary care? Via Dr Richard Ssuna on Twitter
The beauty with being a wildlife-vet, is that you get to treat all sorts of animals
This leopard developed arthritis from a previous injury. This was her annual general health check. #Wildlife #Animals #AnimalWelfare #Africa @TheWildlifeHost @bigcatscom @Lupita_Nyongo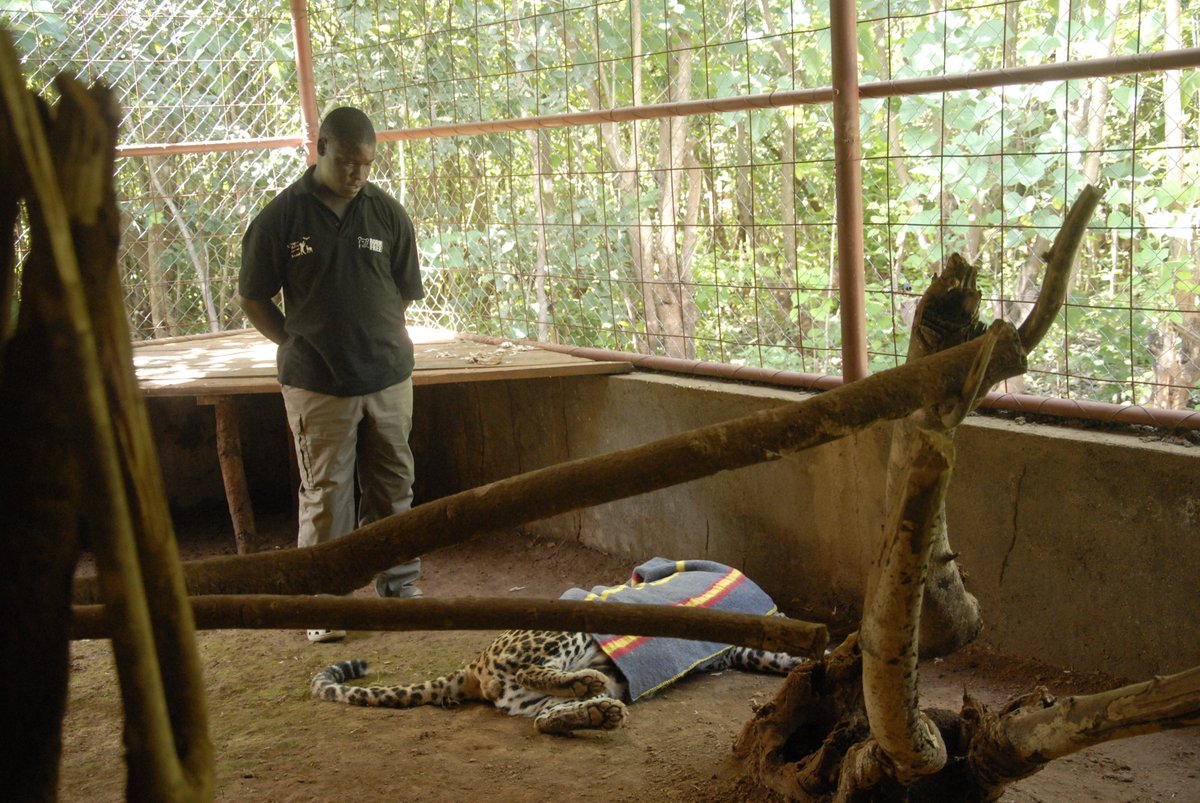 Originally tweeted by Richard Ssuna (@RichardSsuna) on August 16, 2021.
I used to be the Field Programs Officer and Veterinarian for the Jane Goodall Institute
My organisation All Creatures Animal Welfare helps to keep animals and communities safe…
All Creatures was initially set up in Lilongwe in Malawi in 2016, we now have new sites in Lesotho and Uganda
We specialise in:
Mass rabies vaccinations: Rabies is a critical public health concern in Africa and has severe animal welfare and human health consequences.
Animal kindness education: We teach in schools and communities about the connection between animal welfare, environmental protection and human wellbeing.
Community Veterinary Services: Our free vet services including spaying and neutering, surgery and wildlife interventions.
Saving animals from disasters: Animals are often forgotten in natural disasters and pandemics and we are well equipped to save distressed and abandoned animals.
Animal Rescue Centre: We have a shelter in Lilongwe and care for abandoned and neglected dogs and other animals.
"We have successfully vaccinated 75% of all dogs against rabies in Mzuzu, and vaccinated and sterilised more than 80% dogs in Chintenche, Northern Malawi."
When Malawi was hit with floods in 2019, we rescued, treated and vaccinated many animals
Photo: The Conversation Arjan van de Merwe/UNDP/Flickr
"We have rescued and treated many different species wildlife, for example: Vervet Monkeys, Bush Babies, Common Duikers and Olive Baboons."
All Creatures Animal Welfare Trust was set up to care not only for domestic pets, but wildlife too…
This has unfortunately been difficult to implement due to funding and the insurmountable challenges of animal welfare issues for domestic animals. You can help us to help more animals by donating…
Photo by Dalida Innes Wildlife Photography
I helped to rescue baby chimps who have lost their mothers to traps laid by cocoa farmers in Kitooba
I've seen first-hand the poaching of baby chimps and the destruction of chimp habitat for cocoa while I was working at The Jane Goodall Institute
~ Dr Richard Ssuna
Indiscriminate traps were usually intended for bush pigs and yellow baboons and laid by local farmers. They are a common affliction to wild chimp populations in West Uganda. The chimps use private forest patches as movement corridors to access their natural habitats. This below was Masindi, 20 years ago!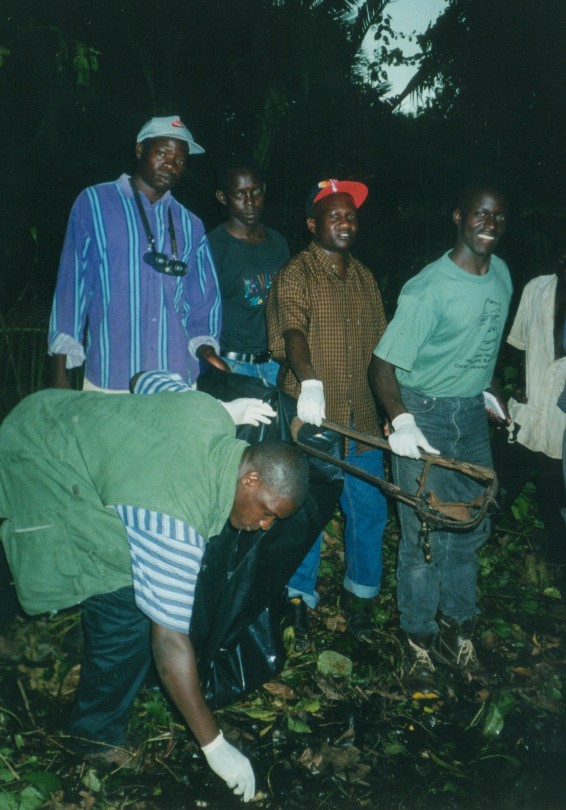 Originally tweeted by Richard Ssuna (@RichardSsuna) on August 12, 2021.
The other culprit was British American Tobacco
They invested heavily in communities and tobacco farmers planted on deforested forest patches! Both activities adversely affected chimps, as their travel routes through community forests were cut off and some small unviable groups were isolated in small forest fragments.
Globally, deforestation of equatorial forests for palm oil has affected carbon sinks and has resulted in more global warming
~ Dr Richard Ssuna
Kalangala Islands, Uganda
"Foreign companies and RSPO members have claimed the land for palm oil. The local inhabitants of the island suffered from the brute destruction of the island's forests and their loss of livelihood and food sources.
"This can easily be extrapolated to inform similar misdeeds elsewhere on the African continent. This also affected peoples livelihoods and many of these people became landless."
---
"The Kalangala Islands are a renowned birders destination. Now, with forest destruction, this pristine bird-haven has been adversely affected and destabilised. All in the interest of a few greedy businessmen!'
~ Dr Richard Ssuna
The global impact of palm oil on various facets of our lives is immoral
Palm oil is driven primarily by greed and profit at the expense of both mankind, the animal kingdom and our planet.
Before the bulldozers came, Magdalena Nakamya harvested coffee, cassava, avocado and jackfruit on her three-hectare (seven-acre) plot on Kalangala, an island in Lake Victoria.
But on a July morning in 2011, Nakamya, 64, awoke to find yellow machines churning up her land and razing the crops she had grown in a bid to make way for palm oil plantations.
"No one came to talk to me before they destroyed my crops," says Nakamya. "I heard that some people were given money, but I didn't receive anything."
Read more: The Guardian UK
In my view all or most product certifications especially whose operations adversely affect people, are designed to cover-up an already messed-up palm oil industry.

Dr Richard Ssuna
"In my view product certifications like @RSPOtweets when their operations adversely affect people, they are designed to cover-up an already messed-up industry." #Wildlife #vet @RichardSsuna #Boycottpalmoil #Boycott4Wildlife

Tweet
Read more: Friends of the Earth and 'If Not Us, Then Who?'
I think the real hope sits with governments
The political will of governments – provided they are not compromised by kickbacks or other financial interests from global brands, provides the best opportunity to address this problem of deforestation for food, at least on a national level.
---
"In a real sense, the public has been hoodwinked into believing that a palm oil certification equates to a more sustainable product and as result, companies fetch even more cash for it"
~ Dr Richard Ssuna
---
The public has been hoodwinked into believing that @RSPOtweets #palmoil #certification equates to a sustainable product and as result, companies fetch even more cash for it" #Wildlife #vet @RichardSsuna #Boycottpalmoil #Boycott4Wildlife

Tweet
In ten years there will be no more African animals. All gone. Extinct. The window for transformation of our food system is closing rapidly!
---
4 things consumers can do to stop deforestation for food ingredients…
1. Raise awareness of brands that are using greenwashing to sell products and are destroying the environment and causing tropical deforestation or emptying our oceans.
2. Consume alternative products, made locally and not coming from deforestation.
3. Publicly condemn these brands causing deforestation, whenever and wherever there is a platform, with family and friends and even on social media.
4. Make reference to this issue and to the #Boycott4Wildlife movement, whenever any adverse climatic changes are suffered as a result of deforestation for food.
---
Join the #Boycott4Wildlife on supermarket brands causing palm oil deforestation