#Research via @erasmuszu @TraseEarth: 15-90% of #palmoil from traders @Cargill #Wilmar @Musimmas_Group @Bunge @Olam cannot be traced is linked to #deforestation and is in 1000's of consumer products. We #Boycottpalmoil #Boycott4Wildlife

Tweet
New research by Erasmus zu Ermgassen and colleagues and published in Science Advances in May 2022 shows that between 15-90% of palm oil processed by global palm oil traders is unable to be adequately traced, due to opaque indirect sourcing.
The original thread below from @erasmuszu in association with @TraseEarth can be read here
A handful of commodity traders: Cargill, Wilmar, Olam, etc
Here's what you need to know about their sourcing practices:
The supply chains which move commodities around the world are often described as an hourglass.
1000's of farmers supply a handful of commodity traders, who in turn supply millions of downstream customers.
When downstream companies (manufacturers, retailers) make sustainability commitments, they rely on the traders who supply them to implement these commitments.
This is the same for Due Diligence legislation, which bans the import of products linked to deforestation or human rights abuses.
Yet how much visibility do traders actually have over where their supplies come from?
In a new study in @ScienceAdvances, researchers checked how often traders buy directly from farmers vs how often do they buy *indirectly* from other kinds of middlemen – local traders, aggregators, and cooperatives.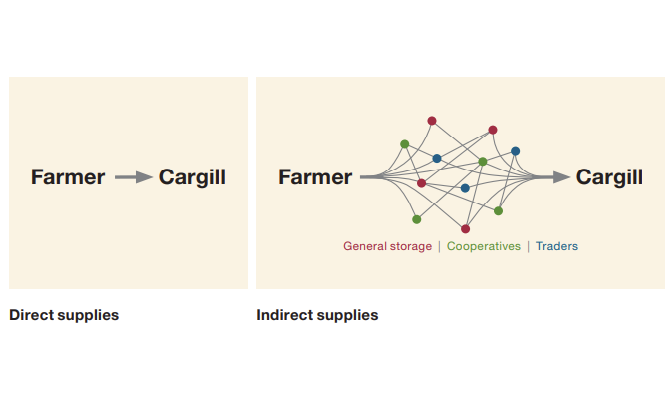 This distinction – direct or indirect matters, because it's inevitably harder to identify the source of products, and check for deforestation or forced labour when your suppliers are removed from the product's origin.
Researchers used customs records, corporate disclosures, animal movements, farm production data to estimate direct/indirect volumes for 4 commodities where deforestation is a big issue: soy from South America, cocoa from Côte d'Ivoire, palm oil from Indonesia and cattle exports from Brazil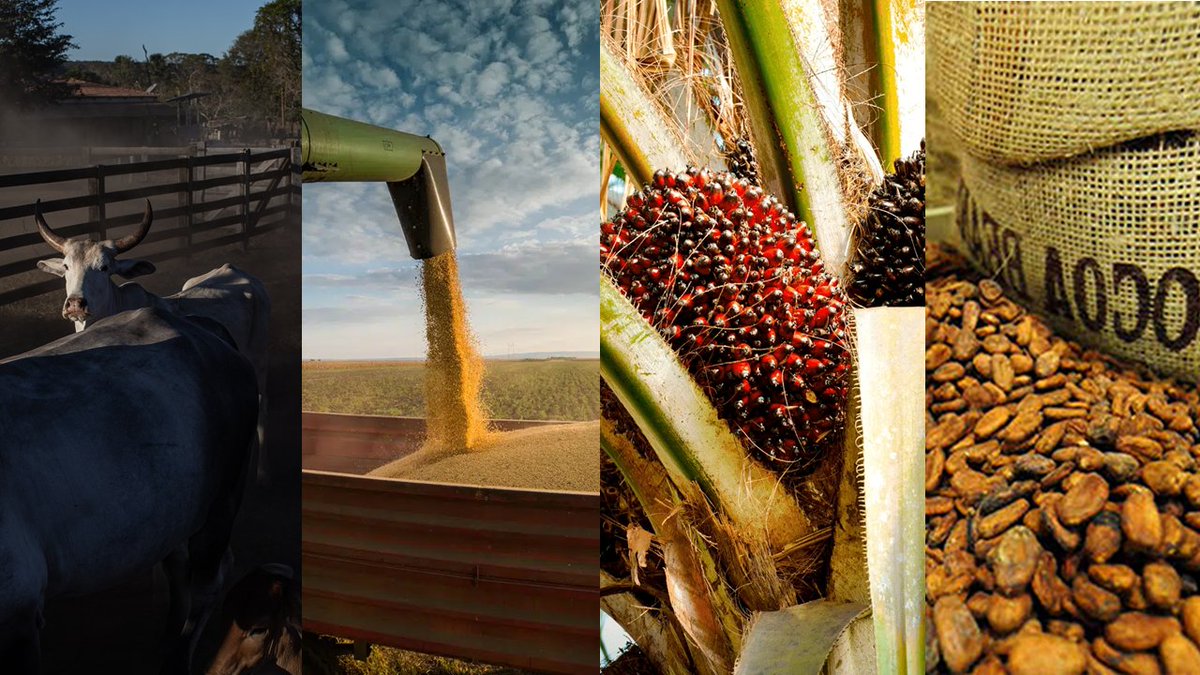 Three main insights
1. Indirect sourcing via local intermediaries is fundamental to commodity trading:
Soy: 12-44%
Palm oil: 15-90%
Live cattle: 94-99%
Cocoa: 100%
Commodities often change hands several times before traders take ownership of them.
2. Lots of sustainability risks arise among indirect suppliers
Indirect sourcing poses substantial deforestation risk across all commodities, if nothing else because of its position of low oversight (compared with direct sourcing) and the sheer volumes sourced indirectly.
Deforestation & other reputational risks are often higher in precisely those parts of the supply chain over which companies have the least visibility.
Pulling together the data/evidence is demanding, but we show this using new data for cocoa and cattle supply chains.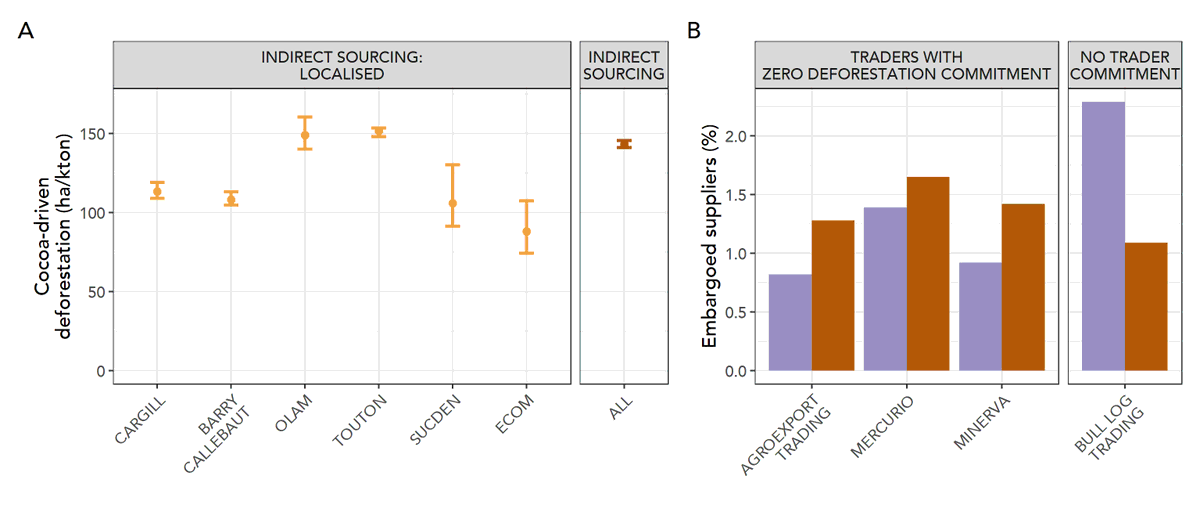 3. Indirect sourcing is a major blind spot for sustainable procurement efforts

Companies are waking up to the challenge of monitoring indirect suppliers (e.g. they were included in commitments made at the COP), but progress is far from certain!
In the soy sector: Bunge currently monitors only 30% of its indirect sourcing (vs 100% for direct).
In the cattle sector: meatpackers promise to monitor indirects in 2025 or 2030, but plans are still fuzzy.
The main sustainability initiative for cocoa, the Cocoa & Forests Initiative: sets targets for traceability of cocoa sourced via cooperatives (which they call 'direct sourcing'), but is completely silent about other indirect sourcing, though its up to 70% each trader's sourcing.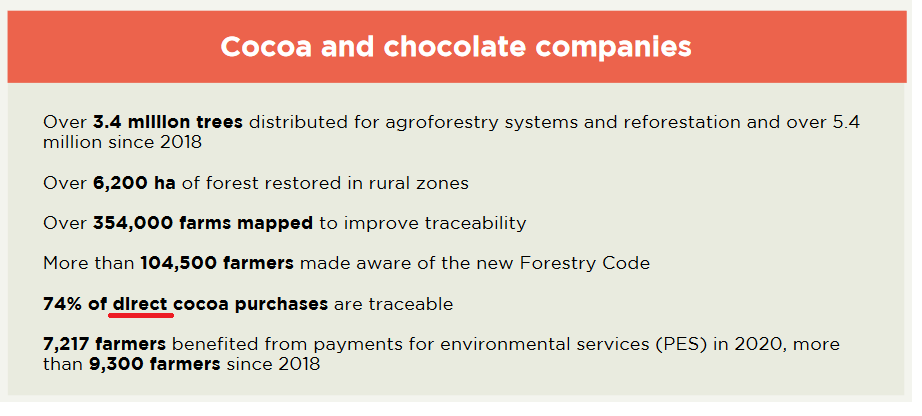 A definition of Greenwashing: companies putting an emphasis on 'observable aspects and negligence of the unobservable aspects'.

Read more
Originally tweeted by Erasmus zu Ermgassen (@erasmuszu) on May 2, 2022.
Abstract
The trade in agricultural commodities is a backbone of the global economy but is a major cause of negative social and environmental impacts, not least deforestation. Commodity traders are key actors in efforts to eliminate deforestation—they are active in the regions where commodities are produced and represent a "pinch point" in global trade that provides a powerful lever for change. However, the procurement strategies of traders remain opaque. Here, we catalog traders' sourcing across four sectors with high rates of commodity-driven deforestation: South American soy, cocoa from Côte d'Ivoire, Indonesian palm oil, and Brazilian live cattle exports. We show that traders often source more than 40% of commodities "indirectly" via local intermediaries and that indirect sourcing is a major blind spot for sustainable sourcing initiatives. To eliminate deforestation, indirect sourcing must be included in sectoral initiatives, and landscape or jurisdictional approaches, which internalize indirect sourcing, must be scaled up.
Indonesian palm oil
Indonesia produces 60% of the world's oil palm fruit, fueled through recent rapid expansion: Between 1995 and 2015, 450,000 ha of new plantations were established each year, driving more than 100,000 ha year−1 of deforestation (18). In 2018, four companies (Sinar Mas, Musim Mas, Wilmar, and Royal Golden Eagle) handled 64% of exports. Palm oil flows from plantations (which may be smallholder or industry-owned production) to local mills, refineries, and traders. Thirty-four percent of oil palm fruit in Indonesia is produced by smallholder farmers (19). Smallholders may contract their land to plantation companies, or they may produce palm fruits as part of a company scheme (also known as "plasma schemes") selling to a specific company's mills. Smallholders may operate independently or organize themselves into cooperatives. Independent smallholders can themselves sell to local mills, although most sell via local aggregators who then sell to mills (20). Traders may operate mills and refineries themselves, although most of the mills are independent—also known as "third-party" mills.
EK Zu Ermgassen et. al. 'Addressing indirect sourcing in zero deforestation commodity supply chains' SCIENCE ADVANCES • 29 Apr 2022 • Vol 8, Issue 17 • DOI: 10.1126/sciadv.abn3132
Researchers and collaborators include:
@erasmuszu @PMeyfroidt, @econ_servation, @vivihrbr, @tobyagardner, @MaironGBL, @HBellfield, @TiagoRe76762750
Even the lead auditor for FSC and RSPO admits that the goal of certification is not to stop deforestation
Tweet from Bart Van Assen, former lead auditor for the RSPO and HCV admitting that the main goal of the RSPO, FSC and other certification initiatives is not to prevent deforestation. (Bart has formerly used @palmoiltruther on Twitter but now changes between @Forest4Apes or @Apes4Forests depending on times when he attempts to conceal his identity).
Boycott the brands causing deforestation for palm oil, soy and meat by joining the #Boycott4Wildlife